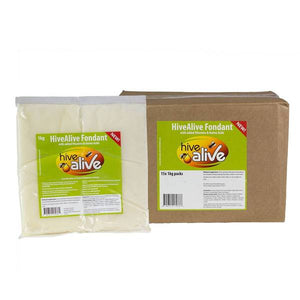 Hive Alive Bee Fondant Case of 15
Regular price $92.99 Sale
Hive Alive Fondant, 12 --1 kg fondant
Produced using enzymatic hydrolysis without the use of acids or heat processing giving no harmful HMF
Added vitamins & amino acids selected for bee health
Very fine particle size sugar for enhanced digestion
Natural active ingredients
Non-GMO ingredients
HIVE ALIVE FONDANT WITH ADDED VITAMINS AND AMINO ACIDS
This is a super flat patty produced using enzymatic hydrolysis without the use of acids or heat processing giving no harmful HMF. Studies have shown that Hive Alive increases brood & honey production and improves overwinter success.
Added vitamins & amino acids selected for bee health
Very fine particle size sugar for enhanced digestion
Natural active ingredients
Non-GMO ingredients
Ingredients: 
Beet sugar (sucrose), sugar Syrup, Dried Seaweed Meal (Fucaceae), Water, Thyme, Lecithin, Lemon Grass Oil, Dextrose, Hydrolysed yeast (source of Alanine, Arginine, Aspartic acid, Phenylalanine, Cystine, Glutamic acid, Glycine, Histidine, Isoleucine, Leucine, Lysine, Methionine, Proline, Serine, Threonine, Thyrosine, Valine) vitamins: B1, B2, B3, B6. Biotin, Niacinamide, D-panthenol.
1 kg (2 lb 4 oz.)